Tournament Summary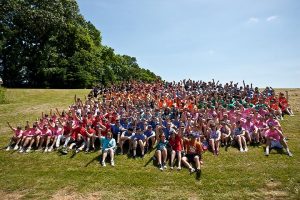 2012 was a beautiful day, the weather was as close to perfect as it could be, not too hot and with a breeze.  Could not have asked more — thank you Justin.  This year was smooth, everything seemed to run well, with a lot of the players flying / driving from out of town, just to participate in the day and reunite with friends and team mates.
The Silent Auction once again proved to have a lot of appeal with over 120 items to bid on, Big Red made his appearance and entertained the kids.
Paint the Hat was successful, with the kids painting hats for the Father's.
The Mocktail was another successful tasting with great concoctions, all with a different twist.  Keith Groller once again MCed for us. Red Robin has been very supportive and continued their sponsorship of this wonderful event.  All the entries were close, judges seemed to enjoy their roles and took the judging seriously.  It was a close competition, but Chrissy Godiska, prevailed with her Pretty and Pink in Paradise.  Looking forward to next year we have surprise competition lined up.
This year proved to be a tough competition.  The Young Ones persevered and after 2 extra innings to win against Team America.  It was an exciting and up and down game.
In the Women's Division we had a new winner, and one that has waited 4 years for their trophy.  The Hot Mama's took home trophy defeating last year's winner The Home Girls.
We decided for 2011 we would like to connect the teams/players with the end result.  With that in mind we will select two teams every year, they will select a charity of their choice that is a local charity or chapter and we will donate $2,500 to each charity.  We ask that the team participates in one activity with the charity.  For 2011 we chose the two winning teams Kyle Zinkler and Andrea Nuschke, captains for the Sea Jays and the Home Girls.  Andrea selected the Autistic Society of LV, and worked with the charity at a basketball tournament that also raised money.  Kyle selected the Boys and Girls Club, they built bikes for the charity to distribute at Christmas.
2012 Winners The Hot Mamas and The Young Ones selected their charities, Cystic Fibrosis for the Hot Mamas and the Cancer Support Community for the Young Ones.