Justin Sheftel Memorial
Scholarship Award
2021 Recipients
Angela Dergham (2021)
Thank you so much for seeing some of the characteristics that I had like Justin. I also am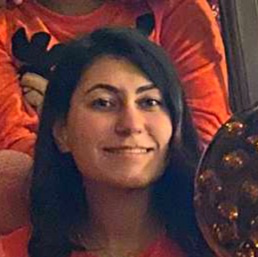 aiding my friends with anything they need. I am not the smartest at school or the best at sports; however, I will continue to learn and grow through experiences during and after college. I will also continue to serve my community whenever they need me. With this scholarship, and other financial assistance, I am able to carry out everything I do like the uncommon hero.
I will continue my education at Moravian College for Sociology, Criminal Justice and Law. I would like to become a Criminal Investigator or be part of S.W.A.T. team. Doing this will allow me to build a great relationship with my community and hopefully have some positive impact in this negative world. I will remember what Justin would do as your prompt proposed. I want to be kind to everyone and do what I can for others.

Kyleigh Duff (2021)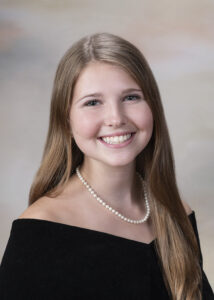 Receiving the Justin Sheftel Memorial Scholarship is a tremendous honor and I am so grateful that the Sheftel family and the scholarship committee thought I was deserving. I have always looked up to the recipients of this scholarship and I was inspired not only by their kindheartedness, determination, and overall goodwill, but also by their ability to carry on Justin's legacy and truly honor him throughout the years. In the fall I will be attending Emerson College to major in media arts production. I hope to take my passion for helping my community and combine it with my love for film and help produce content that will help to make a difference in our world. I hope to honor Justin's memory now, through college, and the rest of my life. Thank you to the Sheftel family for everything you do and for giving me this honor.
Grace Edinger (2021)
Receiving the Justin Sheftel Memorial Scholarship is such an honor and I am so grateful for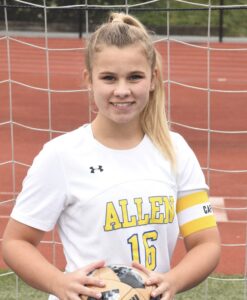 the generosity and kindness of the Sheftel family. The award has a great legacy and such a meaningful background that I am proud to be a part of. Carrying on the values that Justin Sheftel showed his teammates and community means so much to me as I enter college.
I will be majoring in Biochemistry and Molecular Biology at Penn State University, I plan to participate in THON and continue to play soccer. The sports community and philanthropy at Penn State was a huge factor in my choice and being active in those aspects is very important to me. In doing so I hope that I can represent my hometown and other students like Justin. The award is a great honor and through hard work and engagement in my school I plan to carry that honor for my next four years and beyond. Thank you again to the Sheftel family and committee, for this generous scholarship and all of the work they do for our community.
2020 Recipients
NOAH MOREEF   Parkland High School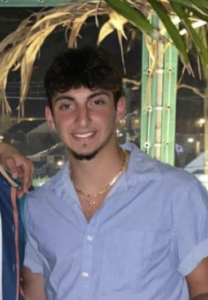 (2021 Update)..stayed home and learned online for the first semester of his freshman year at Temple, and plans to stay home again for the second semester. He finished my first semester with all A's and one B and looks forward to replicating grades for the next semester.
This year I was accepted into the Fox Honors program which I am very fortunate to be a part of. I played for the Temple Volleyball club team this fall and traveled to a few different universities for tournaments. I love the bond I have made with my teammates, which was important to me going into such a large university in the midst of a pandemic.
Comments on the impact of the Pandemic: Over the last 18 months quite a lot has changed in our lives. It's getting a little hard to remember what our lives were like as young adults, students and athletes before our lives were impacted. All I can do is make the best out of the situation. I believe that the thing that has changed the most for me was my mindset and perspective on things. Seeing how the pandemic effected some people really showed me how circumstances that may not affect me directly could have a significant impact on someone else. My hope is that everyone is staying safe and healthy.  Happy Holidays and Happy New year to all!
From Noah: "I would like to thank the Sheftel family and the committee for honoring me with the Justin Sheftel Memorial Scholarship. Justin's memory lives on in his family and friends, the same people that come back year after year to honor him and celebrate his life at the Sheftel Tournament. I will do my role in honoring his memory during my college years and beyond through hard work, determination and continuing to serve my community.
This fall I will be attending Temple University majoring in Mathematics and Finance, and plan on playing club volleyball. Beyond college I hope to have a career that I am passionate about and love, but more importantly to be a helper. I want
to reach out into my community and do good where I can. I will carry the lessons I learned from Justin's legacy as I continue into this next stage. I will emulate the uncommon hero and his example. Thank you again to the Sheftel family for this honor and all you do for the community.
CARRIE SPANGLER    William Allen High School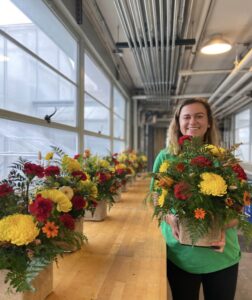 (2021 update)…went to the main campus fall semester and plans on going back up for the spring semester. It certainly is different but she is so grateful to even be allowed to go! Carrie was busy and made sure to get involved at Penn State- She joined the agronomy club, the horticulture club, the dairy science club, collegiate farm bureau, collegiate Cattlewomen's' club, tennis club, and she just finished pledging an agricultural fraternity- she is now a little sister at Delta Theta Sigma!
Further Update: Carrie is currently a sophomore at Penn State, still majoring in Agricultural Science and just recently added a minor in Agronomy! I am currently active in a professional agricultural fraternity, Delta Theta Sigma, where I serve as the Historian and Philanthropy Chair. I am also the Flower Chair for the PSU Horticulture Club, and I work in the Berkey Creamery Commissary, which has been a truly unique opportunity. Getting back into in-person classes and activities has been exciting, and I can't wait to see where the rest of this year takes me! Below is a photo of me with my largest project yet for the Horticulture Club, a 9-arrangement flower order which I planned and helped to execute
From Carrie:  "I am truly honored to have received this generous award. I would like to thank the Sheftel Family and the scholarship committee for this exciting opportunity, and for the kindness they have shown me along the way. Justin Sheftel was a truly inspiring person, and I am grateful to become a part of carrying on his legacy. At Penn State, I will be majoring in Agricultural Science, and I hope to one day work in the USDA and support those in the agriculture community. Thanks to the Sheftel program, I will be a step closer to achieving that goal of helping others, which was something that Justin strived to do throughout his life. Like Justin, I have been an active member of my community and school, and I will continue that spirit through college as a reminder of his life and character. Thank you again to the Sheftel family and the committee for awarding me this opportunity."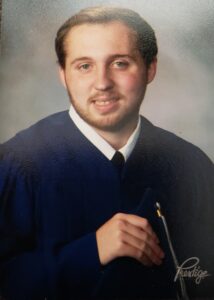 JAKE SPEIGEL   Dieruff High School
(2021 update) … first semester was definitely challenging, more so than normal due to Covid. When he arrived on campus they were sent home two weeks later, but luckily enough we were able to come back on campus a month later; however all of the classes went online. It was still much of fun an experience as it could have been given the current situation.
Jake is currently studying Physics at James Madison University. 
From Jake:  "Words cannot express how honored I am that I have been chosen to receive the Justin Sheftel Memorial Scholarship. I was shocked to learn of my selection for this honor and am deeply humbled to have been chosen
for this award knowing what it stands for. When I read the scholarship application,
I immediately connected with Justin. It is that same determination, hard work and easy going personality that got me through my toughest moments. The ability to push through, and get done what needs to be done, with grace.
I will be attending James Madison University, where I will be studying Physics. It is there where I hope to continue to honor Justin through my hard work and dedication. I will use the physics that I learn to help those who have cancer, like I once did. I will do this because I want to give back to those who helped me when I needed it most. I also have a passion for soccer and am able to find the right balance between school and sports and be able to play while I am at school."
2019 Recipients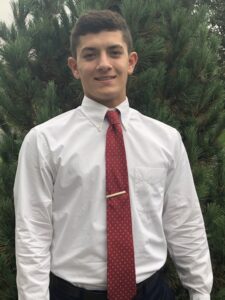 George Jenkins (Parkland) 
(2021 update)…is a sophomore Accounting major at the University of Scranton. He is a catcher on the baseball team and a student representative on the Student Athlete Advisory Committee.
From George: "The Justin Sheftel Memorial Scholarship Award is an honor I will forever be grateful for.  Prior to being awarded the scholarship, I was very familiar with all the wonderful work of the Justin Sheftel Foundation.  The last couple years I was excited to participate in the Softball Tournament and inspired by the love of Justin and the Sheftel family…and last year, my team even made it to the final round.  I remember so many good times at the tournament each year – so much teamwork, lots of laughing, a refreshing feeling of pride in working towards such an important goal of helping others. I also clearly remember sitting next to Steve Carlton for the team picture and being in awe of how many people come together year after year for such an incredible cause.  It is amazing all the good that is done in Justin's memory and how widespread his impact was and continues to be. I believe Justin Sheftel is still very much alive. I think he lives in me and so many others, especially the scholarship recipients. It has been an honor to participate in the tournament but to actually be selected as a scholarship recipient is so special in so many ways.  It is a gift I am extremely grateful for and it inspires me to be Justin-like in all that I do…work hard, be a great son/brother and friend, live humbly, and love life. I share an appreciation for laughter, perseverance, honesty, integrity, and sacrificing for the greater good. I am currently a student/athlete at the University of Scranton pursuing a degree in Accounting, playing on the baseball team as a catcher, and working a part-time job fulfilling my passion for learning and competitive sports." 
Jennifer Wu (Dieruff) (2021 update)..since school break she has been working full time as a UPS helper, delivering packages. When things slowly reopened she was quick to find a job at UPS. Then school started again but only online which was very frustrating but with encouragement and determination, I was able to get through it. Now, I'm working full time until next semester starts
From Jennifer: " I really appreciate Mrs. Sheftel and family
for awarding me the Justin Sheftel Memorial Scholarship. It is an honor to receive this award that will help me not only with college but the memory of Justin. Of his hard work and true dedication as an athlete, student, friend, and son. In his honor, I will continue his tradition of never giving up, working as hard as I can, and always being there to help others. I will be continuing my career at PACE University pursuing a major in Biology and a minor in Spanish. I would like to become a physical therapist to help patients with physical aches and pains. I will be volunteering at hospitals to gain more experience. Thank you once again!"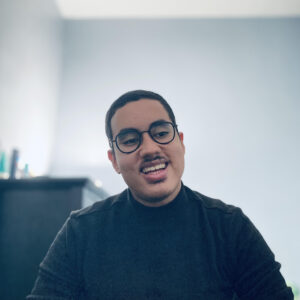 Edwin Chalas (William Allen)
(2021 update)..he started data science minor, and is currently mentoring first-generation college applicants for Matriculate. (see new pic in the file)
From Edwin: " From the bottom of my heart, I'd like to thank the Sheftel family and the committee for choosing me to receive the Justin Sheftel Memorial Scholarship. To be honest, I didn't think it'd be awarded to me – I was in shock when it happened. In that moment, I think I had a deeper understanding of what Justin stood for – dedication, passion and drive for their own sake, and not for a reward. I take those values with me as I finish my first year at Northwestern University, as a Communication Studies major. I plan to mentor other low-income and/or first generation high school juniors and incoming NU freshmen in the fall, and hope to take Justin's values with me in doing so. Thanks again to the Sheftel family and scholarship committee for giving me the opportunity to pay it forward, and keep the memory of Justin alive."
---
For more updates on all the past Scholarship winners, visit:
Where They Are Now