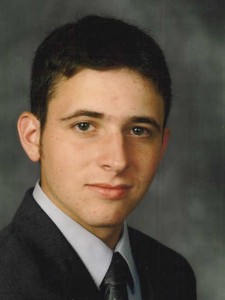 Justin Sheftel was killed in 2005, shortly after graduating from Parkland High School. He was in Ocean City, MD celebrating senior week when he was struck by a car. It was confirmed the driver was speeding and DUI at the time of the accident. He was sentenced and has served time in jail and will be responsible for 40 hours a year for three years of community service. This community service has been focused on talking to High Schools about the dangers of drinking and driving and making destructive decisions. To learn more about the speeches, click on the tab for 'speeches' .
To let you know a little about Justin, he was a very bright energetic young man with an unlimited potential in his future. He had worked hard all through school, attaining not only high grades but also exceptional SAT scores. He had a tremendous diversity of friends and was an avid baseball fan. His smile could light up a room. He was on the verge of his independence and was looking forward to going to college to pursue his dreams.
Some words written from his teachers and friends,
"I am in a business where I am supposed to touch lives and be positive with kids. Justin touched my life!" "We have felt so blessed that we knew Justin for as long as we did. Justin brought so much joy and laughter into our lives; our senior year would have been so dull without him."
"Justin is gone, our family is devastated, the young driver will be haunted for the rest of his life and I will continue to miss and grieve over the loss of a terrific young man; all so unnecessary."
"He had the ability to make everyone around him comfortable and upbeat, second his work ethic was second to none. It almost goes without saying that his quick, dry wit was also very special."
"The great relationship between Justin and me was stronger than friends, I feel like a part of myself is lost. His interests, passions, hobbies, humor and love will always be remembered, which is something no one can take away".
"The last of many traits that I'm going to name in which Justin carried with him was his kindness and generosity. We are all here this morning because Justin had an impact on all of us. All his qualities added together to create a great guy, a loved family member, but to me most importantly an extravagant best friend. Thank you Shef for everything you could have ever done."
The loss of Justin has had major impact on a number of lives, not just his family's. He was well loved, respected and valued. He is greatly mourned and missed.
In an effort to honor Justin and to keep his memory alive a Memorial Fund was established.  To support the Memorial Fund in 2005 shortly after Justin was killed, a group of his close friends started a softball tournament to honor him and help raise money for the Fund.  (see tabs for tournament history/ General information for more info).
In 2012 it was the eighth annual Softball Tournament we are now celebrating our 15th annual. This year there will 20 teams over 250 players.  We are not increasing the number of teams but do want to increase the community support and involvment without forgetting what the tournament represents and the message — do not drink and drive, that decision can change your life forever.  The Sheftel family, extended family and friends  are all changed and hope this effort can possibly prevent another tragedy from happening to other communities and families.
If you would like to contribute please go to the sponsorship tab, or you can send a check directly to the Memorial Fund, Lehigh Valley Community Foundation, 961 Marcon Boulevard, Suite 300, Allentown, Pa 18109-9521 — Ph: 610-266-4284. Or click on the image below to  contribute to the fund directly: