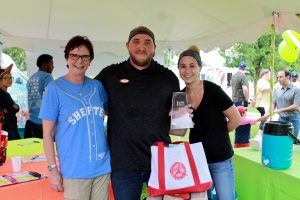 The 2018 Mocktail will be following the same protocol for the Mix Off. We will have four Mixologists representing the 4 local Red Robin restaurants, Tilghman Street, Airport Road, Promenade, and Northampton Crossings. The Mocktail has become one the tournament's signature events, reinforcing the mission statement to "educate the public on the dangers of under-age drinking and on drunk driving". Red Robin has been an active partner in the Mocktail for 9 years they are much appreciated.
This is the eleventh year for the Mocktail Event. Red Robin® has remained supportive of our effort to deliver a message of "Do not Drink and Drive" by offering tasty alternatives to alcoholic drinks.
We love and so appreciate having Keith Groller, from the Morning Call's ESPN's "Calling all Sports" radio and RCN's TV "Sports Talk",  returning as the emcee to 'Call' the Mocktail for us this year. Keith brings a great deal of knowledge he has been doing this for 8 years and enjoys tasting all the drinks with the judges.  Come and taste, all the drinks are on the 'house'!
This year we will be involving the total group, come to the tent get a ticket and vote on your favorite. If your Mixologists is selected and your name/ticket is drawn, you will win a prize package which includes: 
Red Robin Gift Bag includes a $50 gift card
Red Robin goodies: Water bottle, blanket, glasses, coffee mug, frisbee and more
Tournament t-shirts, hat, magnet, sunglasses
more to be announced
Some pics from 2017:
This year we have the four restaurants competing again.
Airport Road: Missy Groller… Missy has been with Red Robin for two and a half years.  She attends Penn State Lehigh Valley and is aiming for her PhD in substance abuse.  She loves sports and is very competitive by nature.  She always goes above-and-beyond to help all team members. Her positive attitude every shift spreads to everyone around her, no matter if it's guests or our entire team.  And the Airport Road team try and hide the Red Bull and limit her coffee intake!

Drink Name: Paradise Sangria; Assistant: 

Ashley Kennedy 
Saucon Valley:  Nick Buzzard…Nick Buzzard started serving for Red Robin in Center Valley during the summer of 2013.  Within a few months, Nick became a CLC (Certified Leadership Coach) and then shortly after became one of the main restaurant bartenders.  When Nick is not slinging drinks at Red Robin, he is playing softball or football.  He grew up playing baseball and loves sports.  He is a die-hard Yankees and Cowboys fan and enjoys traveling the world and hopes to be able to say that he has visited every continent one day. But perhaps one of his best highlights is that he WON the 2017 Justin Sheftel Mixologist Event!  Look out fellow mixos!
Drink Name: Watermelon Fruit Punch

. 
Northampton Crossings:  Trey Atkins Combs…Trey has been a team member for over a year and has bartended for most of that time as well as a key role in catering. He is brings the fun on every shift with a common nickname of his being "Kitty Cat" and self proclaimed "Big Money". His drink will reflect his fun and relaxed nature as he has called his drink "Big Money".
Tilghman Square: Alexandra "Allie" Guth…Allie started working at Red Robin in November 2017.  When she isn't serving, doing expo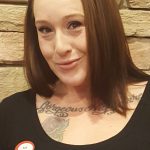 or tending bar she can be found at any number of live music venues with her husband and step-kids, collecting macabre oddities or watching the Travel Channel.
Drink Name: Rose Colored Glasses