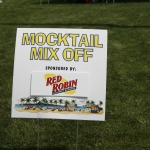 2011 proved to be another exciting year for the Mocktail event. We were very fortunate to have Keith Groller as our emcee, an element that was badly needed.  He did a wonderful job and we are happy to say will be back for 2012!
Also a big shout out to JT Moyer, we had a sound system for the first time, and it was a great addition, we could hear about the Mixologists and their Mocktails.  Thank you JT for your contribution and yes he will be back again for 2012.
We had 4 outstanding entries, from the Mixologist.  Melanie Clark entered Melison's Layered Luau, very tropical entry, with the table decorations to highlight the mocktail.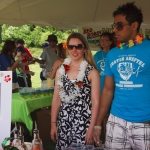 Lynda and Stuart Krawitz worked very hard and were a close second, with their Coco Choco.  The whole family got involved with some coaching from Big Brother in Texas!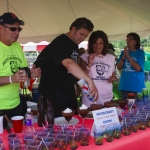 Sophia Raab a friend of Sasha's who was recruited to join in the festivities created a really unique Mocktail, the name was truly the best one  — orange you glad I didn't say banana.  It was delicious with a graham cracker addition.
The winner for the Mocktail was Red Robin's entry, Rachel Minor, she wowed the judges with her "Key Lime and Feelin' Fine"  — it included sour creme as an ingredient, now that is a different approach.  Rachel has agreed to come back and defend her title, so 2012 should be another tasty and interesting year.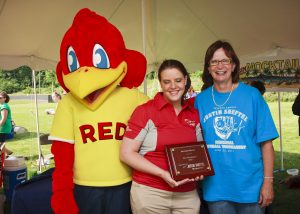 For a full description click on this link:  Mocktail Program Pages 2011
The Winner was selected and it was a very tight competition.  Rachel Minor, with her "Key Lime and Feelin' Fine" walked away the trophy.  Her recipe for the winning Mocktail is:
3/4 oz lime juice
3/4oz lime syrup
1/2 oz sour cream
2oz milk
10 oz Edys slow churn vanilla ice cream
A lot of love
Blend well, top with graham cracker crumbs, whipped cream, and chocolate syrup drizzle.
Enjoy!
Rachael Minor
Another close contender was "Orange you glad I did not say Banana" delicious creme sickle Mocktail created by Sophia Raab. Here is the recipe:
1 cup of cream
6 ouncesof Vanilla Bean ice cream
1/3 cup frozen orange juice concentrate
1/4 teaspoon vanilla extract
5 ice cubes
Our judges with worthy of their task, we had Jayne Bartlett, President of the Parkland School Board, Susan and Dennis Walsingham, long time sponsors from Glenmede Foundation, Dr. Robert Kevitch, long time friend and supporter, and Pat Beldon, 2010 Mocktail Winner.  We thank them for their time and energy!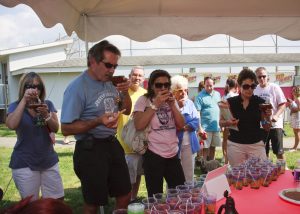 Come and enjoy, sample the Mocktails, all drinks are on the house!
A word about Red Robin:
Red Robin was founded on four core values: Honor, Integrity, Continually Seeking Knowledge and Having Fun. These core values are the foundation for every Red Robin decision from creating its mouth-watering gourmet burgers to hiring energetic team members. They are also the foundation of how the company treats its team members, guests and communities. Red Robin's core values can be found embroidered on the sleeve of every team member's uniform, which serves as a constant reminder of what makes the company unique and special. These core values are the basis of the Red Robin cultural atmosphere. You can see this culture when the servers go out of their way to provide a memorable experience for every guest, when the mixologists card any guest under the age of 39½, when the cooks make each smiling burger picture perfect and so much more.
Red Robin also has an unparalleled and extraordinary approach to guest service known as Unbridled Acts. There are thousands of stories of Red Robin team members who live the company values through random acts of kindness they bestow upon restaurant guests, fellow team members and manager.