2012 Mocktail Mixoff
Mocktail 2012 was a close contest.  Rachel Minor was back from her win in 2011 to compete along with three other mixologists, see the information on their drinks and the Mixologist below.  Chrissy Godiska won with her "Pretty in Pink in Paradise".  Keith Groller was on hand to Emcee, lot of  happy tasters also participated.
Chrissy's Recipe:
1 cup Strawberries, 2 oz. Pineapple Juice, 1 oz. Cream, 1 oz. Pina Colada Mix, 1/2 cup Vanilla Bean Ice Cream, Ice — Blend all together, and enjoy.  Serves Two.

Picture Below — The Judges: Liz Andrew, Diane Rizetto, Andy Khan, Lisa Adams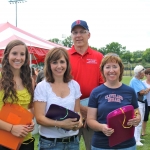 Gigi Fogelman & Sasha Sheftel– Sasha is a 23 year old professional student planning to become a dietitian with a Masters in Nutrition. Her life revolves around food,from cooking and baking,to understanding the health benefits in the body. Her cocktail reflects her spicy character and love of the bright colors and flavors of fruit. With Summer Spice, she hopes to take the winning mixologist title for year 2012 with co mixologist Gigi Fogelman. Gigi was born and raised in Kharkov, Ukraine . Thanks to Jewish Family Services she was able to settle in Allentown. Over the past 22 years she continued to raise a family and work as a hairstylist. Her passion is to cook gourmet meals for my family and friends.Participating in this fundraiser is very important to me. My hope is that the Mocktail "Summer Spice" adds a special flavor to the event.
Samanatha "Sam" Hoagland–has been working for Red Robin for 5 years, and as a mixo for about a year and a half. She is also the Local Restaurant Marketer at the Airport Road location. Outside of work,Sam is the lead singer in a band called "Everything She Says". She plays guitar,writes,and sings on the side. Currently a junior, studying psychology with a concentration in business at PennState. My family and friends are the most important thing in my life. Sam's Mocktail is – "Samantha Sundown"
Christine Godiska – Chrissy Godiska – is an 8th grade learning support teacher at Springhouse Middle School. She also is a middle school cheerleading coach at Parkland. In her free time, Chrissy enjoys dancing, cooking, exercising, and spending time with her friends, family, and puppy, Mason. Name of her award winning drink – "Pretty & Pink in Paradise".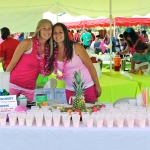 Rachel Minor–Rachel has been with Red Robin since May of 2003. Starting as a server she worked her way up to working as a Mixologist at our Northhampton Crossing location. In July of 2010 she was promoted to the Local Restaurant marketer position. In January 2011 she received another promotion to Senior Marketer. When Rachel isn't working trying to find the next great event for the local stores she loves spending time with her husband Christopher, whom she met while working at Red Robin, 2 year old daughter Sophia and dog Hawkeye. She also enjoys spending time with her closest friends creating new and exciting cocktails to try. Her favorite drink and entry is – "Fun in the Sun-gria"