Mocktail 2009, was challenging due to the weather.
SDS Design and Darryl Shellhammer were sponsors for the Mocktail Event,
we greatly appreciate their support and involvment.
2009 Mocktail offered some wonderful drinks and in spite of the weather the judges were able to pick a winner.
The Competitors or Mixologists were:
Donna Steckel, Assitant Principal PHS, co-winner of the 2008 Mocktail, returned to defend her title. Her entry was "Parklandish Lemonade".
Sasha Sheftel, PHS Grad 2007, Justin's sister, currently attending BU majoring in Health Sciences.  Her drink was "Apple Julep".
Judy Sheftel, Justin's Aunt, cook extraordinaire, mother to Andrew, Jordan, and Jonathan, wife to Larrie (Elliot's Brother), all players in the tournament. Her entry was "Berry Berry Splash"
Barry Morrell, a friend and supporter of our family. Father to Alyse, Tyler, and Chris, all players in the tournament. Active coach and Penn State fan.  His entry was "Barry's Tropical Breeze".
Judges were:
The Honorable Judge Robert Steinburg, Lehigh County Judge of Court of Common Pleas.
Michaeleena Cosgrove and Nick Gisolfi (2009 Scholarship winners. Michaeleena will be attending Temple University, she plans to study Criminal Justice. Nick is attending Johns Hopkins majoring in Biomedical Engineering.
Dave Cope a representative from SDS the sponsor of the Mocktail Event, longtime supporter of PHS sports and North Parkland Baseball.
Dave Jaindl, longtime supporter of the Softball Tournament, owner and President of Jaindl Farms, LLC. Active with a number of organizations throughout the Lehigh Valley, including the Lehigh Valley Miracle League.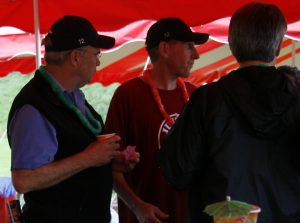 The Winner for the 2009 Mocktail is Barry Morrell.