Softball Tournament
Saturday June 19th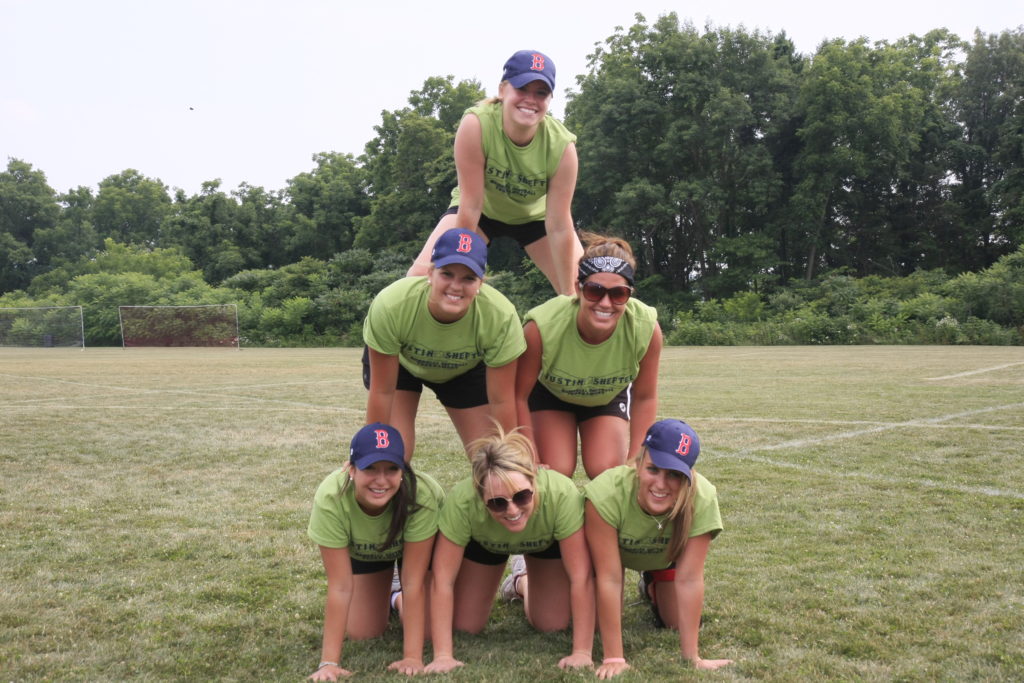 Captains Summary & General Info:
Date: June 19th, 8:30 AM – 8:15 PM  (this info will be updated and confirmed as we get closer to the date)
Number one thing, PLEASE communicate with your team, no surprises; rain date is important for all players, Sunday June 20th – Lehigh County Fields.
Men's Schedule

: 

TBD
Women's Schedule: TBD
Field & Day's Activities: TBD
Group  Pictures at

10:55 AM

, place behind the Muhlenberg Softball Field –  please let your team know
Team Pictures — if your team picture has not been taken try to have done after group picture,  stay on the hill.
 Official Tournament Rules – Review with your team– cards in your basket. Chandler wooden bats all donated for use. 
 Confirm score after every inning with Ump and other Captain.
Player code of conduct – please make sure all players read understand what the day is about — see tab also.
Captains report results to scoring table after game; confirm score after each inning with ump/other Captain.  Score cards will be provided.
Opening Ceremony  (15 minutes) please let your teams know, start ceremony at 8:30 AM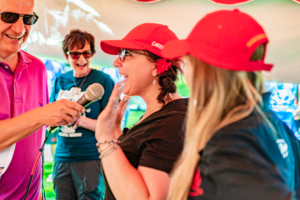 Other great activities for the day – please communicate with your team:
Mocktail: Start time,

1:45 PM

(Red Robin Mascot)
Silent Auction
50/50 Raffle
Food Vending: Vince's Cheesesteaks, Kona Ice
Kids Activity: Face Painting, Photo Booth, Lawn Games and Tie Dye T-shirts. Free for kids under 6 years of age. $10 for kids 6 years and older, t-shirt included.
Sports Clinic:

12:30 to 2 PM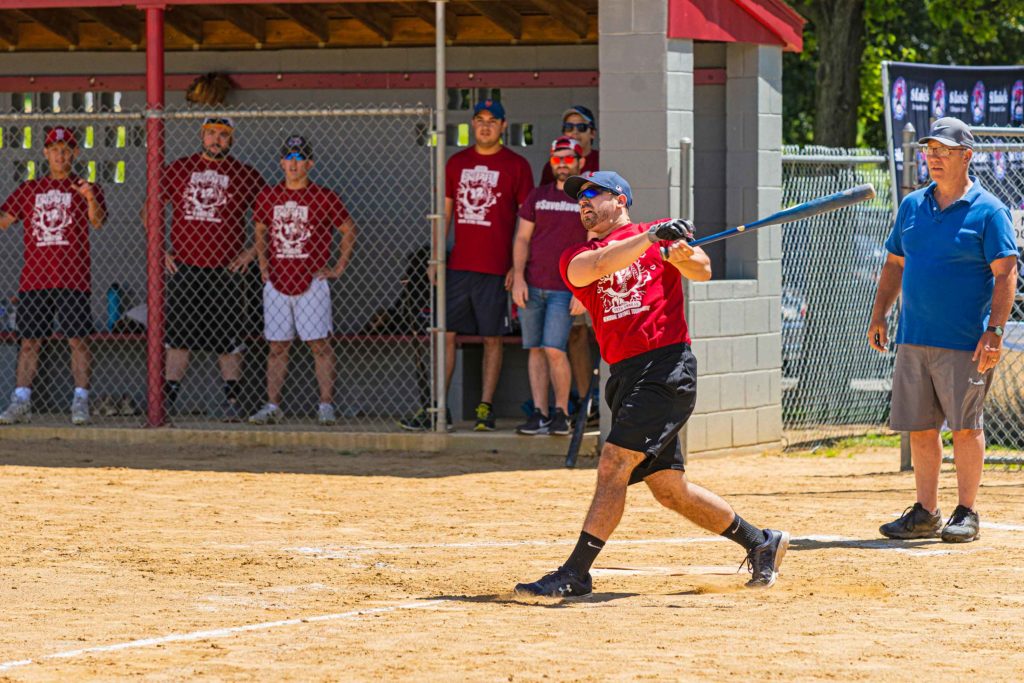 Rules of the Game:
1. Play 6 innings or 60 minutes, division play, division winner advances to semis, then to finals.
2. Everyone bats, whether they play or not, continuous line up within the game bat in order based on the lineup for that game. Not DHs no subbing (including runners except for physical reason/injury) into batting line up, new person plays at end of line up for that game.
3. No consecutive walks; no more than two walks per inning, (Pitcher not throwing strikes, will be given a warning by Ump/Field Manager — continues will ask Captain to sub).
4. No bunting, stealing, or leading.
5. Slow Pitch with 6-10′ arch.
6. Forfeit after 15 minutes if team not ready to play.
7. Two home runs per inning, home run after the two will become a singl
8. Total of 10 players in the field.
9. Score and strike zones will include both the Orange plate extension mat and plate.
10. Foul ball on 3rd strike is a strike out.
11. Leaving base early before batter makes contact is an out. One warning per game.
12. No metal cleats, will not play.
13. Confirm score after each inning.
14. Tie break for division play: 1. Head to Head, 2. Run differential (7 runs max. per game), 3. Fewest runs allowed, 4. Coin toss.
15. Use ONLY wood bats for the Men's games (provided on the field) only — two bats per field.
16. Start with a 1-1 count
17. Link to handout: Official Tournament Rules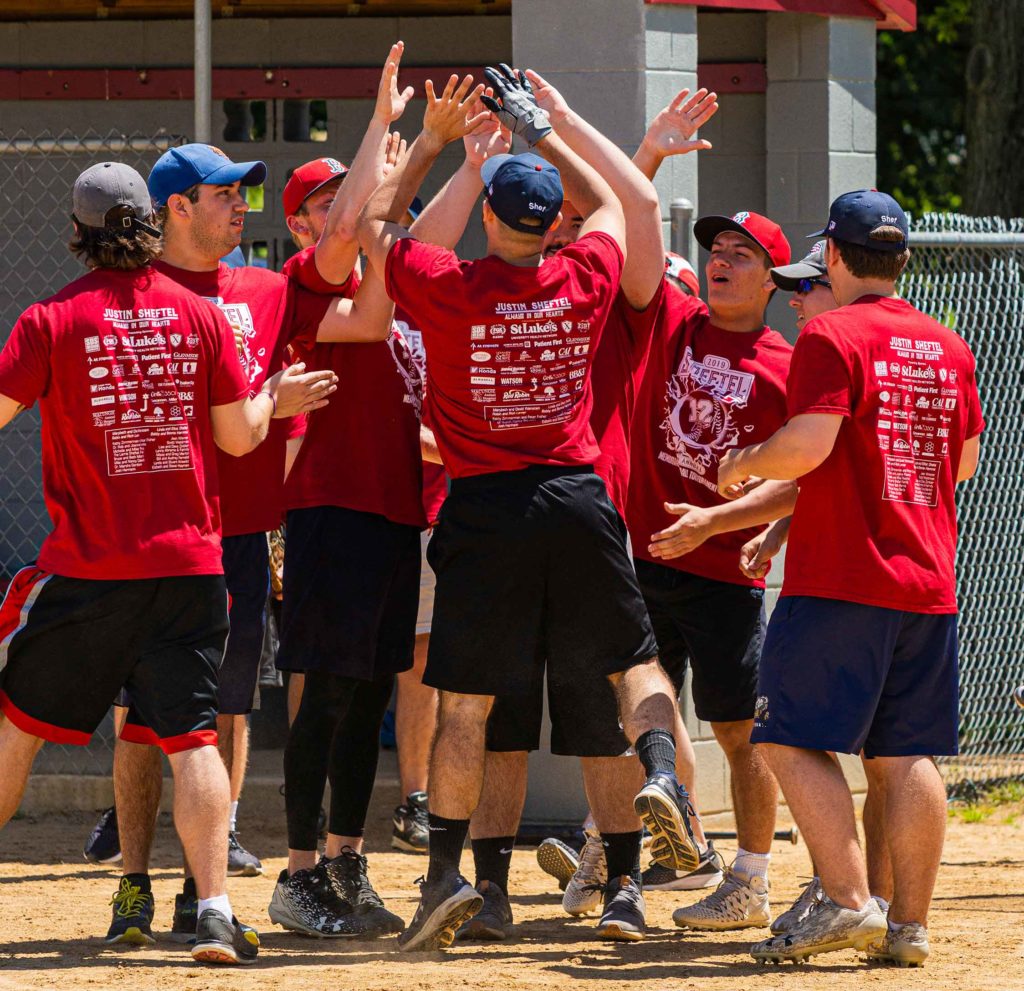 Code of conduct:
In 2007, we presented two scholarships for $5,000 to two highly qualified and deserving seniors.
Alex Ullman one of Justin's childhood friends presented the award. He coined a phrase 'What Would Justin Do' or WWJD, this player code of conduct embraces that thought.
A small excerpt from his speech: "The Justin Sheftel Memorial Scholarship rewards those individuals who have the humility to be a team player, and yet possess the passion to keep on going even when the best is out there playing. It rewards the ones who might be rendered invisible when only the best of the best are considered on paper, but who in reality, have just as much personal drive as the greatest who ever played."

The Player Code of Conduct is fairly simple:
1. Be a "team player".
2. Support the effort to honor Justin and remember him on this day.
3. Act with respect toward the umpires, volunteers and opposing players.
4. Appropriate language should be used at all times.
5. Think with the idea 'WWJD'.
6. NO consumption of alcohol or drugs, on or off school premises during the tournament, no tobacco products on school property.
7. Have a tons of fun, play hard, and bring a great spirit to the game.