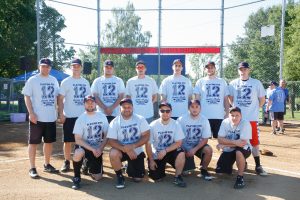 Fernlot – One of the earlier "younger" teams in the tournament. They are always competitive and we keep thinking they have to win one of these years. Captained by Marc Schmidt, this has always been a well captained and managed team, with a lot of potential.
Some History… Over the years they have always seemed to be in the semis — again in 2010  they went to the semis. 2011 they were not in the running, 2012 they also fell quickly. Remember they are getting older — not the young ones in the tournament and maybe they have slowed a bit, but Marc Schmidt always brings a great team, and wonderful spirit, love those guys. Surprised us and themselves in 2013 they went to the semi's, played well.  2014 they did not move ahead but we have noticed after the t shirt order was for larger sizes they have trimmed down a bit in 2014.
Marc Schmidt was able to field a team after the date change, and they had a good day. Participating and playing hard.  2016 was a beautiful day, they had fun.